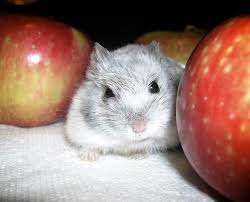 In case you are thinking if you could actually feed apples to your pet then its worth knowing the facts before you offer it any. Hamsters do hamsters eat apples but it should always be offered in moderation. Apples are one of the most wholesome and nutritious fruits that almost everybody likes to savor, including of the hamsters.
Is it All Right to Offer Apples to Hamsters?
Hamsters have a natural affinity for a variety of fruits including but not limited to bananas, mangoes, apricots, strawberries, avocadoes, blueberries, and apples. Hamsters demonstrate a special preference for apples feeding on the fruit gluttonously. So, you can always include apples in her diet as long as you don't offer her abnormally large amounts.
Quantity or Amount to be offered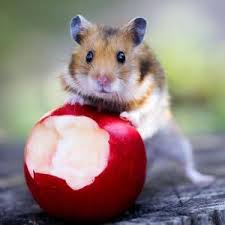 Always see to it that you offer half a slice or a full one at the most during her mealtimes. Additionally, it'll be better if you feed the fruit in combination with other fruits instead of offering it in isolation. Then again, never forget to wash the fruit in clean water before you can slice it up.
Cut up an apple into extremely thin slices and use a clean, dry knife for slicing the fruit. Offer only half portion of the slice at a time so that your pet can munch on it comfortably and swallow it easily as well. Make her drink water or juice if she chokes while swallowing the same and don't forget to give a call to the local veterinarian.
Benefits of Apples to you Hamster
An apple is a very nutritious fruit that is rich in carbohydrates, vitamins, and minerals. It contains vitamins B, C, E, and K in good proportions as well as minerals such as potassium, phosphorus, magnesium, and calcium. Antioxidant properties of apples help in driving out toxins and the fibrous content promote digestion. B-complex vitamins promote metabolism and the mineral content keeps the heart in good shape.
Storing Apples to Keep Them Fresh
When buying apples always opt for varieties like Melrose, Fuji, Gala, Pacific Rose, and Granny Smith that are sold in box packs. You should opt for these varieties as they remain fresh for longer timeframes provided they're stored appropriately. Prior to putting away apples in the fridge, place them in a dry cardboard box-pack and thereafter cover them with a moist paper towel.
---