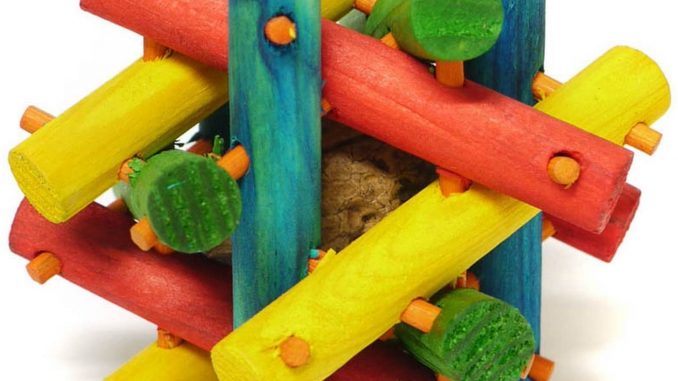 Intended for biting or chewing by animals like hamsters, chew, or gnawing toys help improve mental stimulation in your little furry friend and provide relief from boredom. As your hamster is prone to developing overgrown teeth, it needs to chew on enough hard food so that its teeth can wear down naturally. Investing in chew toys for your pet not just helps in making it happy but also keeping its teeth healthy.
But first, make sure the chew toys you give your hamster are safe because some types could be toxic to your little buddy. Those available in the market are considered safe, but you should still check what they are made of before buying them.
Things to Keep in Mind When Buying Chew Toys for Your Hamster
Material
When it comes to the material of the chews, check whether it is digestible and durable. Also, take the colors and flavors of the gnawing toy into account and find out if those are certified by the USDA.
Wooden chew toys free from pesticides and chemicals work well for your hamster, but other materials are also used, including paper towel rolls, and hard, crunchy treats like rolled oat cereals and dog biscuits that do not contain garlic.
Type and Shape of the Chews
Make sure you avoid those toys that have sharp edges or the ones that are made from a combination of two materials like wood and plastic. These types of toys can cause injury.
Luckily, you can choose wooden activity toys that give your pet not just plenty of exercising opportunities but also chewing features. Please verify that the chew toys and activity centers are made of pear or apple wood that does not consist of oil.
By placing chew toys, along with the activity toys, water bottle, and food bowl, your hamster's cage could get messy, and your little friend might not have enough space to walk or move freely. When choosing a specific chew toy, consider the size of your pet and its cage.
Top 5 Hamster Chews Your Pet is Sure to Love
1. Kaytee Combo Chews, Apple Wood and Crispy Puzzle
Pros: This is a combination of wooden chew sticks and uniquely-shaped loofah chews that come in attractive colors, keeping your hamster entertained for hours. It is ergonomically designed, with dimensions of 4.5 X 6.5 X 1.25 inches, making it suitable for all small hamsters.
Cons: It does not come with a hanging bar and is difficult to hang, especially from a wire cage. Also, the loofah pieces are cute, but some hamsters may not show interest in them.
Final Word: The chew sticks along with the puzzle toys, made from safe all-natural material, are a good choice for small breeds like Syrian hamsters.
Rating: 4 out of 5 stars
2. eCOTRITION Snak Shak Edible 3-in-1 Chew Treat and Hideaway
Pros: It comes in golden honey flavor, making it a great-tasting treat that promotes your hamster's natural chewing instinct. This uniquely designed 3-in-1 activity log, available in different shapes and sizes, provides a fun hideaway that adds more excitement to your pet's cage.
Cons: Since it contains pine wood shavings, it may cause digestive issues for some hamsters. The toy is quite difficult to wash because it becomes soft and sticky if it gets wet.
Final Word: Besides promoting dental health, its natural wood look makes it a more enjoyable and stimulating addition to your pet's home.
Rating: 3.5 out of 5 stars
3. Kaytee Small Animal Chew Toys
Pros: Despite being so brightly colored, it is a safe and healthy chew for your pet as non-toxic vegetable dyes are used. This item, made from all-natural wood, not just encourages healthy play but also promotes good dental health. It satisfies your pet's desire to gnaw and chew.
Cons: In some cases, the toy may not last long, as the thin rods holding it together come out easily, causing the toy to fall apart. Some hamsters find it hard to chew, as it may have splinters.
Final Word: Aside from being a good chew for small pets, it keeps your hamster from getting bored as it can play by pulling the thinner sticks out.
Rating: 4 out of 5 stars
4. 8 In 1 Pet Products Small Animal Cheesie Chews
Pros: This item not just satisfies your hamster's natural chewing instinct and keeps its teeth trimmed, but the chew toy also has small pieces of rice embedded that helps in cleaning them. Unlike those that contain wood brushings, this unique chew is produced from real carrot extracts that are completely digestible, and it comes with real cheese flavor.
Cons: For some, it may not last long because many hamsters have reportedly chewed through this gnawing toy in a matter of a few hours. The price is also high as compared to some of the other chews.
Final Word: Because of its exciting cheese shape and flavor, this chew attracts hamsters of all sizes.
Rating: 4 out of 5 stars
5. Pawliss Teeth Grinding Lava Block
Pros: These blocks, being made with natural lava rock, are durable and robust so that they can be used as an ideal grinding base for your hamster's teeth. They are incredibly lightweight, making them easy to move around and play with.
Cons: They look like ordinary rocks, and some animals are not interested in them. The fact that they do not smell good does not help the cause either.
Final Word: These might look unattractive, but they are great chewing and nail-sharpening options for your little buddy.
Rating: 4.5 out of 5 stars
FAQs
Q.1. How frequently do you need to change your hamster's chews?
Ans. Since hamsters frequently chew on their toy, they make it wet. It eventually becomes unhygienic, as bacteria and other microorganisms start infesting. Therefore, you should consider replacing your pet's chews every few months or so. Also, continuous chewing makes these toys too rough to bite any further. Make sure to change them once your hamsters stop chewing or ignoring them completely.
Q.2. What to do if your hamster won't chew its toys?
Ans. If your hamster does not like biting its chew toys, you cannot just sit back and allow its teeth to grow out of control. Try another toy of different shapes, sizes, and colors. You may spread a little amount of honey over the toy or rub a carrot so that your hammy might think that it is chewing on something interesting rather than ordinary wood.
---